Tel: 0117 230 3590 Email: info@sukosta.com
© 2009 All material copyright SUKOSTA
Company based in Bradford on Avon, Wiltshire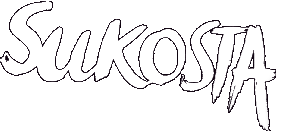 is the artistic collaboration
of Sue Lee and Kosta Andrea. At the heart of
the work is a leap into the unknown, a laboratory process - a quest to discover the unpredictable.
The company has to date created numerous new performance pieces as well as installations
and film work, and has presented in venues
and festivals in the UK, Canada, Switzerland
and Italy. SUKOSTA has gained support from many funders and a growing International reputation for its personal, humorous, quirky
and atmospheric visual theatre that touches
the depth of human experience.





For more details and information about latest news and upcoming workshops visit
the "Latest News" section of this website.